January 2019 Hurricane Michael update - work is underway at the house to recover from the hurricane damage. Like all the SeaCliffs units, we'll be getting a shiny (literally - will be metal) new roof, missing / damaged siding will be replaced and the relatively minor damage on the interior and doors/windows will be repaired. It's still difficult to know when we'll be able to book rentals and we don't want to take reservations until we know for sure we'll be able to honor them. Our hope is for the work to be completed by early April. It could be sooner, or could be later than that.
We will, of course, update things here. We also have a Facebook page that we will keep updated with our progress. You can find that here. If you'd like to know when we're back up and taking bookings, email ken@dunerise.com. We'll send out an email notification for folks who contact us there.
It should also be noted that the SeaCliffs property is in recovery as well, and it's hard to say at this point when the pool and the beach walkover will be back in shape. We will accept bookings once our house is back together and let guests know the condition of SeaCliffs before they commit.
The entire Cape San Blas / Port St. Joe community appreciates guests' patience as the recovery rolls on.
Dune Rise is part of the small SeaCliffs community on the quiet north end of Cape San Blas near St. Joseph's Peninsula State Park. Our home is located closer to the beach than all but a few others, and we offer the best rental rates in the community. See Rates and Availability.
Unobstructed gulf views from three spacious covered patios bring the sights and sounds of our beautiful sugar-sand beach right to your back door.
Whether you head to the beach or the large community pool also just steps away, Dune Rise is right in the middle of the relaxation "action".
And during your downtime you can enjoy a spacious, well-appointed beach house with all the comforts of home in a small but private townhouse community.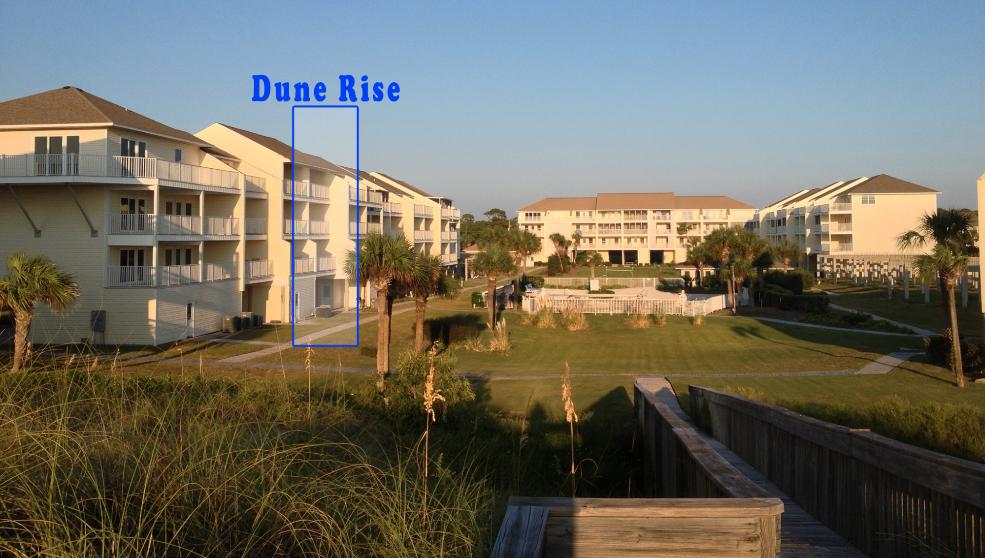 Spacious, Comfortable, Modern Home
Dune Rise is not merely a rental property; it is our family's vacation home.
Here you will find comfortable - not fancy but not rental-house cheap - furnishings, a well-equipped kitchen, quality linens and modern entertainment choices including Netflix, HBO Now and whole-house high-speed Internet service.
The house features three bedrooms - a King master suite on the top level and Queen and Two Twin bedrooms on the third level - and comfortably sleeps six adults or four adults and four kids. Each bedroom has a private full bathroom.
We've built a large list of guests who return year after year, which we believe is the best testament to the homey feel of Dune Rise.
Click through the house gallery at left for views of the entire house. Or get details about the house here.
Not the typical Florida beach
St. Joseph's Peninsula - usually referred to as Cape San Blas, though the cape is only a small part of it - is a rare find in Florida these days. Peaceful, largely unspoiled and full of quiet natural spaces, the peninsula is an escape from not just your everyday life but also the crowded, commercialized beaches of Florida's gulf coast. Not just a summertime destination, the peninsula is an amazing place to visit any day of the year.
At Dune Rise, the beach is just 100 yards away, but we encourage guests to explore the rest of the peninsula as well. Just one mile from our front door you can find yourself on a bayside woodlands trail in the state park that will make you think you're a thousands miles from nowhere. The giant unspoiled dunes farther inside the park are a must-see. On the bay you can go kayaking or just enjoy the view from the bayside boardwalk at Salinas Park. A bike/pedestrian path runs the entire length of the peninsula as well.
And on the beach you'll enjoy a level of peace and quiet unmatched on any gulf coast beach. In the off season you may be the only people on the beach at times, and any time of the year you'll find far fewer people on our beaches than elsewhere.
Off the peninsula, it's a short trip to the famous Indian Pass Raw Bar, Apalachicola and Port St. Joe. The entire "Forgotten Coast" is a wonderful throwback to a simpler time in coastal Florida. Click through the Forgotten Coast gallery at right for shots of the amazing places here.
Finding "The Forgotten Coast"
Although it seems like half of Atlanta relocates to the Florida panhandle for the city's Spring Break week, it seems that a lot of people have still never heard of Cape San Blas. Given the crowds found in Panama City Beach and all along the Gulf Coast, that's not a bad thing at all.
But if you're more interested in a natural beach / bay setting and Old Florida charm than highrise condos and mini-golf, "The Forgotten Coast" is only an hour farther down the road from Panama City. Dare to turn off of the Interstate and four-lane highways and the quiet country roads will lead you here.
Cape San Blas / St. Joseph's Peninsula (consult your geography textbooks for the distinction between the two) lies off the southern tip of the panhandle between the little towns of Port St. Joe and Apalachicola. You may need to zoom in on Google Maps to see it, but it's worth finding.